Stud Rubber Matting
round stud  Rubber Runner Matting rolls --- China Rubber Mat producer
Penny/Stud Rubber Matting 
The uses of this rubber are endless, it can be used for flooring , walkways , dog kennels/cage, boot liners and many more. This product has 22mm diameter raised circular studs with an operating temperature of -20 / +70 and hardness is 70 shore A.
The round stud/ coin shape/ Penny Rubber Flooring Mat has an anti-slipping raised round coin shape surface and fine cloth pattern bottom. It is suitable for floors, walkways, loading areas, work-benches and general-purpose areas, and it can be applied around aprons, in ramps and more other places. The round coin shape Rubber Flooring Mat can be installed directly on the floor by glue.
Features & Specs 
♦ Features:
Economically priced

Calender machine made and roto-curer vulcanized  

Medium Hard - wearing & durable rubber

Slip resistant  surface

Impression finish anti-creep reverse

Water proof solid rubber, no water absorption

Extensive colour range available to special order
♦ General specifications:- 
Polymer Type: SBR/NR 

Hardness: 65/75º 

Density - SG: 1.5 

Tensile Strength: 2.5 Mpa 

Elongation at break: 250% ~300%

Temperature Resistance: -20/+70ºC

Penny/Stud/Coin Style Rubber Garage Flooring Anti Slip Matting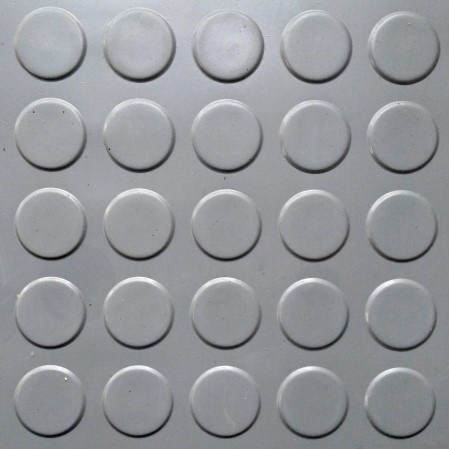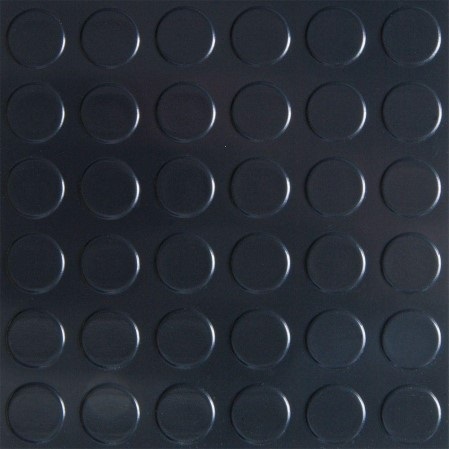 Dimension & Sizes Available 
rolls of runners size: 1400mm x 3mm x 10 meters    /   1000mmx4.5mmx10m     /   1000mmx6mmx10m
pieces sizes: can be cut to sizes you want
FAQ
1. How is your coinsshape mat produced?
Our coinshape mat is made from rotocurer which is continuous production. the continuous rolls would have uniform quality on each millimeter when the rubber goes through the big heating drum. The mat is produced as a perfect waterproof and antifatigue workplace/walking way mats in long runs. 
2. what is the package of the coinshape/penny mat and loading quantity?
Our rubber coin shape /penny dot mat is in rolls of 10 meters and packed by plastic bags. we will put label on each roll to describe the product name, PO number, Size. if requested, we put barcode and weight information warning notice on the label. rolls will be packed on pallets. A label with packing details will be put on each pallet, well, PO number, quantity of each type of rubber will be put on to ease your future counting and warehouse management.
3mm rolls of 10 meters, 25 rolls/pallet
4.5mm rolls of 10 meters, 20 rolls/pallet
6mm rolls of 10 meters, 15 rolls/pallet
Pallet cost is USD13/pc.
20 to 23 tons of rubber rolls can be loaded in one 20 feet container without pallet packing.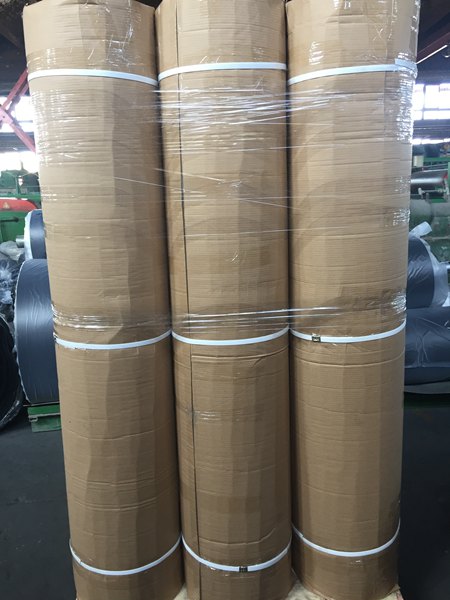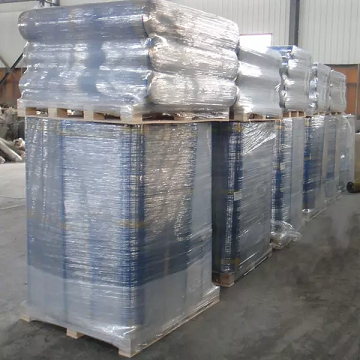 3. How to cut the round coinshape/penny mat easily?
 Like all rubber sheeting, a utility knife and some water will help the cutting. it is better get help from the place where you buy the UTE rubber mat, they will help you do the job Here is a good source to learn more. https://www.wikihow.com/Cut-Rubber-Mats 
NOTE: Please pay much attention of the quotes from other suppliers that the cost may vary because of material used in production. Some factory may use low quality rubber which has odor smelling and do harm to people's health. Some rubber may cause serious marking on the original floor due to the cheap chemical additives extraction from the rubber sheet. Some raw rubber may contains metal piece which may damage your stamping blade/tooling and stop your production process. Our rubber sheet is produced for European market, Our compound had been tested by Third party and comply to REACH and ROHS.
Company Introduction
Beijing Dewei Rubber & Plastic Products Co., Ltd is a leading Chinese Rubber matting and workplace rubber matting producer. We provide multiple patterns and designs for our clients in the industry. Our quality and manufacturing procedures are strictly in accordance with ISO 9001:2008, ISO 14001:2004 and Dewei's extensive R&D facilities are available to find new products and materials to meet the needs of our customers.
Our Products are fully compliant to REACH, ROHS and PAH standards.
All the rubber matting can be produced in NR/SBR, Natural Rubber, EPDM, Nitrile, Neoprene for special purpose and application. We provide OEM service and custom assigned colors are available; in this case you may need to provide us the pantone color code.
Anti-skid surface design provides very good anti-slip performance. Material on surface is abrasion resistance which make the mat last long time in application. Easy installation and cleaning. Widely used as carpet in cars, trucks, gym, airport and station, etc.
FAQ & Why buy from us?
♦ FAQ: 
Q - How to clean the rubber mats?
A - Sweep loose debris off the mat. Use a broom to sweep all loose dirt, mud, and debris off of the rubber mat. If it is a large mat, use a push broom. If there is a lot of debris on the mat, you may need to sweep it multiple times. Scrub stains with a brush and soap. If there are particularly stubborn stains, you may need to use a cloth rag or brush. Scrub the stain with the rag or brush until the dirt is removed. If the stain won't come up, use a bit of soap or water-based spray cleaner. Don't use solvent-based cleaners. They can weaken the rubber. Use a hose to wash the mat. Take a garden hose and spray the mat with water. Use moderate to high pressure.  For more information please check: https://www.wikihow.com/Clean-Rubber-Floor-Mats
Q - How to store the rubber mats?
A - it is highly recommend to store the rolled rubber mats in a bag after rinse and dry it when you don't use it, please put it in a cool and dry place. Normally it can only be kept for 12 to 24 months if you don't use it, as rubber may be destroyed in room temperature in open air because of Ozone. 
Q - Why some rubber mats smell bad or has peculiar unpleasant smell.
A - The odor is from the rubber compound. Many manufacturers use low quality recycle rubber and low quality oil/chemical additives which would give out peculiar smell, which could do harm to your health in everyday life. In our factory we never use these kinds of raw materials. We only purchase high quality additives and premium recycle rubber for our products, which are odorless or very light smell. This smell can disappear in two days when you open the product.
Q - How you control your quality better than other Chinese rubber mat companies?
A - We do as ISO QC program and have a higher standard on raw materials and quality system than others. we don't waste material and energy of the earth, we want to save the earth by producing durable products instead of low quality products.
Q - What is the difference of your products from others?
A - You won't suffer from odor and find metal pieces in rubber sheeting that you may have got from other manufacturers, because we have extra process at the beginning of the compounding to filter the metal pieces, it reduced the risk of damage the stamping blades/tooling in your workshop or your client's shop. We put your business value on top of the cooperation. It is a safety investment which saves time and money for your future business. This will help you win trust and long term contracts from your clients.  the price may be slightly little higher than others while our quality and service is guaranteed and  big reliability of supply save your troubles & company image. Every details are for a better product and long term interest of the clients and our company. You will benefit from our quality and friendship.
We also has online thickness QA by machine in production system, which ensured the consistent thickness on all length of the roll. The online trimming system ensured the width is consistent along the direction. Each rubber roll will be inspected 100% by worker before packing in rolls.  All rolls will be trimmed as your specified length and width, No cheating. We will label on package of the rolls when we pack them, we train our workers properly in packing and all products will be correctly labeled. 
We load rubber rolls on pallets if you need, we also load rolls directly in container to save shipping cost. We calculate the quantity before you confirm the order, we will load maximum rolls for you to save your shipping cost. We put safety on priority in loading layouts, not only the goods safety, but also the personal safety in loading and unloading in your terminal when your workers open the container. All measurements in our production and loading are helping you get better products and protect your business Value.
Q – If this mat can be used in oil and grease place?
A – Not recommended, we recommend the NBR/NR compound for such application. SBR/NR is fair to oil and grease, but NBR/NR is a more preferable choice. NBR has great resistance to Oil and grease. please contact us by info(@)beijingrubber.com to inquiry this product.
Q - If this mat can be used as electric switchboard?
A – No. we have Electric switch board fine ribbed matting complying to BS-921 for your choice. We also has BS EN 61111:2009  Class I and 0 electric insulation matting. please contact us by info(@)beijingrubber.com to inquiry this product.
Q - Why Calendered  and roto-curer vulcanized Rubber sheeting is better than press vulcanization machine?
 A - Let's go to check this link here and read "what's a calender machine?"